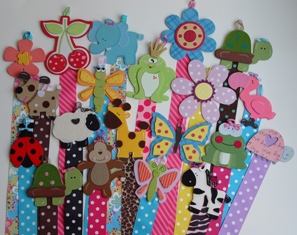 Here is a fun and creative way to hang all of those bows.
What little girl wouldn't love to have all of her cute hair bows hanging from these adorable bow holders and your little one is sure not to forget where they are.
This is a cute and functional way to keep them nice and looking their best, while adding a little character to her room or bathroom!
Not to mention that you won't have to go digging or hunting, only to find them flat or stuffed somewhere and now you have to "fluff" them back out. You will always be able to find them - just hanging around.
Another way to know they will be right where they belong, hang it a little lower, so she can put them up or take them off. ~Plus you will make her feel special!!!
Don't be fooled by other bow holders that won't hold up.
What makes our bow holders different and rise above the rest?
We take care to make sure that your bow holder will last as long, if not longer, than her bows. We are constantly looking for ways to make them better.
We have just recently changed the way we make our bow holders. We know how heavy all of those bows can get, so we have added a new hanger for a long lasting and dependable holder.
All hair bow holders are around a yard long.
We can make them a little shorter if you would like.
If you want to add that extra personal touch, add an initial to the ribbon. After all she deserves it!