Are you tired of playing the "pick up the paci" game?
Well, here is a great and safe way to end it all!
We have several different Paci Clips to choose from.
We have Ribbon Paci Clips to coordinate with each outfit and we have Monogram Paci Clips to perfectly match each outfit.
Each are carefully hand made with your little ones in mind. These paci clips are just long enough to keep paci off the floor but short enough to be safe.
However, as with any item for small children, Adult supervision is needed. Never leave a child unattended.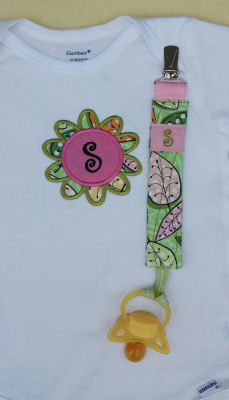 Sorry, but there are no products matching this criteria. Please try again.